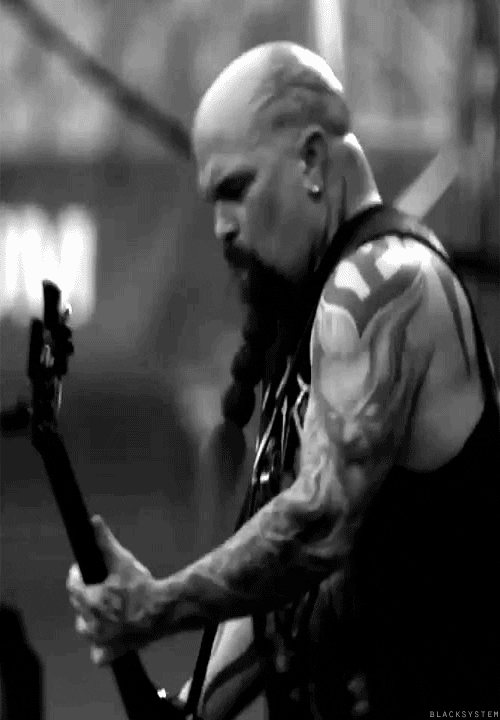 These top 5 lists are great, it gives me a chance to talk about some of my favourite aspects of metal, and hear the responses from the people who tune in. This week I thought I'd do a top 5 on what I believe to be the heaviest bands of all time.  It comes down to the riffs, the bass, the heart-stopping breakdown and everything else we love about this genre of music.
5. Meshuggah
Sweden's Meshuggah are one of my all-time favourite bands. Their complexity and mechanical method of playing has earned the respect of the metal community and they are held in high regard. For me, their breakdowns and riffing as well as tone is some of the heaviest music I have heard in my life. They manage to send you into a frenzy, due to the power of their music and the energy that surrounds the band. Songs to refer to; New Millennium Cyanide Christ, Dehuminization, ObZen, Lethargica, Nebulous, Break Those Bones Whose Sinews Gave It Motion.
4. Slayer
Would a list of heaviest bands be complete without Slayer? The short answer is no. King and Hanneman are responsible for some of the heaviest riffs and breakdowns of all time and will not likely be surpassed. Any metal fan is familiar with this band and why they've earned their legendary status. Their music is demonic, dark and will forever be carved into the DNA of heavy metal. Songs to refer to; Angel of Death, Raining Blood, Jesus Saves, Expendable Youth, Hell Awaits.
3. Death
Death's music and discography is pure genius. Their music goes beyond that of conventional death metal and drew on influences from a number of different areas. The albums are compositions of music, drawing on progressive elements whilst also blending melody with heavy tone and riffing. Chuck was one of a kind and Death's discography shows expansion and maturity, as with each release the music delved into new territory, thus going from strength to strength. Songs to refer to; Spiritual Healing, Pull the Plug, Symbolic.
2. Pantera
It was difficult to decide whether to place Pantera as 1st or 2nd in this list. Pantera managed to mix heavy playing with soul and groove like no other band has ever done. Their music had a certain energy which only Dimebag and the band where able to cultivate and they will forever be remembered for that. Dimebag is responsible for some of the heaviest riffs of all time since Black Sabbath formed, and I will always regard him as a riff lord, among Iommi. Pantera's riffs weren't only heavy but they rattled your head and energised you in a unique way. I have listened to their music for many years and still to this day their music is just as fresh and passionate as the first day I bought Cowboys from Hell. Songs to refer to; Walk, 5 Minutes Alone, It Makes them Disappear, Goddamn Electric, Drag the Waters.
1. Black Sabbath
Iommi will forever be the riff master, and I'm sure just about every metal-head would agree, his riff composing is unlike any other. Sabbath's incorporation of doom and sludge sounds made for the heaviest and most frightening riffs/breakdowns of all time. The rhythm section of Geezer and Ward make for the backing of Iommi's riffs, and when combined you are presented with a sound which has still not been beaten. Sabbath created the blueprint for metal song writing and their where certain tones in their music which was dark and heavy. From Sweet Leaf to Into the Void, from Black Sabbath to Cornucopia, these riffs have stood the test of time and for me Black Sabbath will forever be the greatest and heaviest metal band of all time. Songs to refer to; Every Black Sabbath album up to, and including the Dio era.



Please reload