My Top 5 Metal Guitar solos
Many people criticise metal for its lack of emotion/phrasing and melody in its guitar solos, and I could not disagree more. There have been countless classics to come out of the genre which have become a staple for guitar players trying to improve their skill. Whether its the Godfather Iommi, Tipton, Friedman, Hammett, Rhoads or Dimebag, to name a few, there are so many contributions to soloing to have come from metal, and I'm going to go through my top 5 ever.
5. Deceiver - Glenn Tipton
To start off I went with one of the most classic solos off what I believe to be one of the best metal albums ever written, "Sad Wings of Destiny". Glenn Tipton showcased his mastery on this track, with slow, yet perfect guitar phrasing, taking this solo to an epic level. It ends with one of the most memorable licks I can think of. Like many of his other solos, Tipton proves that speed is not always everything. 
 4. War Pigs- Tony Iommi
No list would be complete without one of the many solos by the Godfather and creator, Tony Iommi. Like his riffs, Iommi was responsible for many great solos and melodies. His use of the blues and jazz origins made for interesting solos that where some of the first you would try learn on guitar. For me personally, I had a hard time choosing between "Paranoid" and "War Pigs", but ultimately chose the latter. Iommi's phrasing in this solo is flawless, much like the song it is contained in. I remember seeing this solo being played live and time slowed down as I watched the master at work. Iommi invented the blueprint for riffing and soloing and we all owe everything to this man.
3. The Unforgiven - Kirk Hammett 
Excuse the wah-wah pedal, and say what you will, but Kirk Hammett has produced some of the greatest solos of all time and has influenced so many people who have picked up a guitar wanting to become a shredder up on the big stage. His solos on the first few albums are of mastery and will forever be remembered. 
Songs such as, "Ride the Lightning, Fade to Black, One, Master of Puppets, Enter Sandman", are some of the many moments that Hammett has had. However for me personally, his solo in "The Unforgiven", is the one that will always stick with me, due to its pure emotion, suitability to the ballad and how perfectly suiting it is to such a great song. I do understand the criticism surrounding Hammett, and yes there are plenty of more technically proficient shredders out there, but even the biggest Metallica hater cannot deny the importance and influence of his guitar playing.
2. Floods - Dimebag Darrell
Similar to Iommi, this list would not be complete without a Dimebag solo. This man brought a style to guitar playing which had never been seen and will never be seen again. I always likened Dimebag to the Hendrix of heavy metal, due to the sounds he could produce, the soul in his playing and the passion that is purely intangible and can't be found in many guitar players. The man just had it. There are so many Dimebag solos to choose from, "Cemetery Gates, Domination, Walk", to name a few, but Floods will forever be my favourite. Every time I hear this solo I do get a little emotional as Dimebag makes his guitar scream and cry. The energy in this solo is phenomenal and Dimebag managed to craft a solo that will stop the mosh pit in its tracks and have them starstruck. It will forever dawn on me that I will never see this band live, but their music and Dimebag's playing will live on forever, and the solo in Floods is the epitome everything he was known for. 
1. Tornado of Souls - Marty Friedman
Tornado of Souls is without a doubt my favourite metal solo of all time. Friedman managed to forge a solo that sends both guitarists and air guitarists into a frenzy and it has always been my dream to be able to play it in its entirety (practice, practice, practice).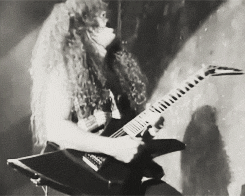 This solo is so good because it summarises metal and that thrash sound so well, uses perfect phrasing and has iconic licks that every metal fan knows, regardless if they play an instrument. This solo is not only my favourite, but also one a highlight in the Megadeth discography. Seeing this solo live sent me into a frenzy and I still get that rush every time I hear the studio recording, and for this reason I had to pick, "Tornado of Souls", as my favourite metal solo of all time.



Please reload